Winter, 1998-1999


1999 Weekends
| | | |
| --- | --- | --- |
| Chicago | Rockford | Central Illinois |
| February 12-14 | March 12-14 | February 26-28 |
| November 5-7 | October 15-17 | October 15-17 |

Swan Song for Man of La Mancha

Adios, Don Quixote!

Register now to bid farewell to a faithful friend

Think "Valentine's Day." Think "Anniversary." Think "Last Week-end for Aldonza and Dulcinea."
Why think these thoughts? Because they all refer to the next Lutheran Marriage Encounter Weekend in the Chicago Area—February 12–14, 1999. Here's how they tie together:
• The February Weekend is special because it climaxes on Valentine's Day—a romantically meaningful day for all lovers. (Think "Recruit!")
• The coming Weekend would be a good one to choose for an anniversary of your first one, since it is the last Chicago Area Weekend based on old, familiar outlines. (Think "Let's do it again!")
• Because outlines are being totally revised and updated, the first Chicago Area Weekend in 1999 is also your final opportunity to relive the touching narrative of Don Quixote's efforts to transform the lowly Aldonza into the beautiful Dulcinea. (Think "Our last chance!")
What more incentive do you need to think "Register!" But hurry; reservations are already coming in. Let your married friends know about this special Weekend. Consider a gift certificate (Contact Alan & Ruth Anne Wheeler at da2ofus@couple.com to get one) You pay nothing now. When your friends send in their registration form, you will be contacted for the $45 registration fee.
Make it REALLY special
Make this Weekend really special by registering as an anniversary couple. Just send your request along with a check for $45 (payable to Lutheran Marriage Encounter) to:
Bob & Janet Ichida, Registration Couple. For further information, you can call the Ichidas at 630-307-8336 (Or e-mail Cheta89@aol.com)
You won't want to miss this opportunity to say good-bye to Don Quixote, his squire Sancho Panza, Aldonza-reborn-as-Dulcinea—and, of course "The Impossible Dream."
Think about it!


New Mission and Vision Statements

Revised Mission and Vision Statements for International Lutheran Marriage Encounter were approved by the North American Region board in August. The Mission Statement describes ILME's reason for existence; the Vision Statement gives the organization's long-range focus.

MISSION STATEMENT
Lutheran Marriage Encounter is a ministry dedicated to assisting married couples to live fully intimate and responsible relationships by providing an Encounter Weekend experience as well as ongoing community support.

VISION STATEMENT
The Lutheran Church renewed and our world changed through strengthened couple relationships and stronger personal relationships with Christ.

To see the current Chicago area board list, please visit http://members.tripod.com/~da2ofus/ChicagoILME/ChicagoBoard3.htm
To see the Chicago area community coordinators, please visit http://members.tripod.com/~da2ofus/ChicagoILME/CommunityInfo.html

Who's on board in new Board lineup:

Changes and additions are creating a new look to our Chicago Area Board
roster. Here's a run-down:

Alan & Ruth Anne Wheeler

Ralph & Judi Golnick

Orin & Karen Lerdal

Alan & Ruth Anne Wheeler have become our new Lay Contact Couple, who head the board. Since the Wheelers arrived in the Chicago area in September 1996, they have been promoting Marriage Encounter, as they had done in California since
being encountered in 1994.
Alan & Ruth Anne became a Presenting Couple in 1996. They have made presentations at District-level and International LME Family Reunions, and are braille and large-print contact couple for the various faiths expressions of ME. In addition, Alan & Ruth Anne will maintain our Chicago Area LME website and Online Spirit.
Locally, the Wheelers have served as Community Development Coordinators and Publicity Couple. They will remain as Publicity Couple while taking on the Loving Task of Lay Contact Couple.

Following two years of dedicated service as Lay Contact Couple, Ralph & Judi Golnick will certainly continue to serve our area. They have signed on for three Loving Tasks!
The Golnicks will continue as Presenting Couple Coordinators while adding Facility Couple and Community Development Coordinators' duties to their responsibilities.
Since being encountered in 1982, Ralph & Judi have, at one time or other, held almost every Loving Task position. Their commitment has helped Lutheran Marriage Encounter develop as a positive force for marriages in Chicagoland.


New on the board, but not new to Chicago Area LME, are Orin & Karen Lerdal. The Lerdals, who join the board as Renewal Supplies Couple, are 20-year ME veterans. They were encountered in September 1978, and are coordinators for Rainbow Community.
Orin & Karen will soon be initiated into the newly created role of Renewal Supplies Couple. They will be responsible for this Loving Task at the Weekend Renewal scheduled for December 5.


Thanks to all these dedicated Loving Task couples who keep the Marriage Encounter Dream alive in the Chicago Area!

What? All-new banners too?

Yep!

Along with all-new outlines for Marriage Encounter Weekends, there will be new banners as well. Art concepts for the banners are illustrated at: http://members.tripod.com/~da2ofus/ChicagoILME/Banners.htm.
We are looking into the possibility of having the banners professionally silkscreened or transferred by plotter. However, if this turns out to be cost prohibitive, communities will be asked to volunteer to make at least one of the banners—on a first-come, first-served basis.
Contact Alan & Ruth Anne Wheeler at da2ofus@couple.com to get the pattern of your community's choice. Don't wait too long. The banners must be ready for fall Weekends.


In the wonderful world of LME
Prayer warriors wanted

Were you aware that our Chicago Area Weekends—as well as Lutheran Marriage Encounter Weekends around the world—are prayed for literally around the globe? It happens because of a unique Internet service—Prayer Vigil and International Prayer Scroll.
Encountered couples may sign up for one-hour blocks of time to pray. Contact Alan & Ruth Anne Wheeler at da2ofus@couple.com for more information on how to sign up.
The Prayer Scroll format is based on Greenwich Mean Time (GMT), which is six hours ahead of Central Standard Time. Multiple couples may be on a single time slot.
Participants are not limited to Internet users. Any Internet user can sign a couple up.

'99 Board meetings set

Your Chicago Area LME Board meets quarterly to dialogue, hear reports, and discuss policy. Area encountered couples are always welcome to attend or express concerns they may have to our Lay Contact Couple—Alan & Ruth Anne Wheeler (708-424-0537).
Contact the Wheelers for locations of the 1999 meetings:
• Sunday, January 31
• Sunday, May 2
• Sunday, August 1
• Saturday, October 30
Unless otherwise notified, meetings start at 4:00 p.m.

We want old Spirits

Your Area Board has determined that it would be helpful to maintain a newsletter archive. We know there must be some "savers" out there, so we're asking if you have any older issues of Spirit that you're willing to part with.
If so, please contact our Area Resource Couple, Rich & Barb Samonte. Items of archival interest should be sent to Rich & Barb Samonte. If you do not have contact information for the Samontes, please contact Alan & Ruth Anne Wheeler at da2ofus@couple.com

Y'all come to Renewal

A Weekend Renewal potluck dinner has been scheduled for Sunday, December 5. While the event primarily gives couples coming off the November Weekend a chance to reunite, it also offers an opportunity for veteran couples to welcome the "rookies" and to revive their coupleness.
The Renewal potluck is to be held from 4 to 7 p.m. at St. Paul's Lutheran Church, Villa Park. Contact our Area Clergy Contact Couple, Roger & Carole Willer, at rawiller@unidial.com for directions.


Got a question? You'll have one every day with LME Dialogue Calendar

Adapted from We Are Family II, District II newsletter

Dear Lovers,
We have laughed and cried, driven away and come back, loved and hated. Almost all of the things we do, the places we go, the people we meet, and the situations we encounter cause us to have feelings. That's why we created the Lutheran Marriage Encounter Dialogue Calendar.
For seven years we have tried to provide a tool to help us all dialogue at least on a regular if not daily basis. The 1999 calendar is no exception. In this edition, we use a series of questions on a single topic to give couples the chance to dig a little deeper into areas that have perhaps been avoided for whatever reason. We have also tried to include a little humor with the graphics. All the holidays for the year are included on the back cover and highlighted each month.
Calendars are still $5.00 each. You may want to order extra calendars for those special friends and for the couples on your Weekends. They make wonderful Prayer Couple gifts. We'd really like to hear what you think of the 1999 calendar—good or bad, so we can make future calendars better for you.
Order your calendars (with checks made payable to Lutheran Marriage Encounter) from:
Gary & Cheryl Smither e-mail: GCS2004@solve.net
In His love and ours,
John and Anne Borgelt e-mail: jaborgelt@freewwweb.com




To view the November 1998 weekend list, please go to http://members.tripod.com/~da2ofus/ChicagoILME/Nov98Weekend.htm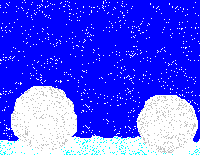 Marriage Encounter

By Alan Wheeler


Man and wife—
A union before God
Restored to its prime,
Refreshed and renewed
In one Weekend's time.
A chance to dialogue,
Give more to your love—
Even more than what you thought was enough.

Expression of feeling,
New opportunities revealing,
Couples finding joy
Or maybe even healing.
Unto each other
New doors are open;
This Weekend changes you forever—
Encouraged by love,
Renewed by blessings from above.




Community Corner

You Are Cordially Invited to Join Us

We would like to remind all of you loving couples in the Chicago Area that the February 1999 Weekend will be the last time the Man of LaMancha music may be heard on a Marriage Encounter Weekend. We encourage all of you to send Don Quixote off in style with a filled Weekend.
For any of you who may not be aware, the Weekend outline is being updated in a completely new format—with totally new talks and new music. The presenting couples in this area are busy writing the talks to the new outlines. Their deadline is September 1, 1999.
After that time, there will not be a Weekend presented with the old outlines. We would love to have a full Weekend and send off the Don in fine style.
Please join us, won't you?
Ralph & Judi Golnick
Community Development Coordinators <ralphg@ameritech.net>


Get in the SPIRIT

Lutheran Spirit of the Windy City & Greater Chicago Area is distributed quarterly, as resources permit. Here's how you can keep the Spirit flowing:
Items for publication may be sent to: Don & Rita Crawford (e-mail: Crawfs2@aol.com)
(We reserve the right to edit and condense.)

Spring Spirit Deadline: FEBRUARY 1, 1999



District II execs set goals
Because of its significance this article is being reprinted from the October/December 1998 issue of We Are Family II, newsletter published by Lutheran Marriage Encounter District II.

As a part of the Leading Through Relationship (LTR) training that we attended in St. Louis in September we were asked to set some goals for our areas. As District II Executives, we talked together and have set the following goals for District II.

1 To create more of a "Family Attitude" in the district, encourage a minimum of 60 couples to attend the International Family Reunion in 2000.

2 Increase average weekend attendance to at least 20 couples by July 1999.

3 District Leaders contact area leaders at least once a month.

4 Have the district be financially in the black by January 1999.

5 See an increase in Presenting Couple strength in each area in the district by adding two new Lay and one new Clergy Presenting Couple each year for the next three years.

6 Have full leadership attendance from each area in the district at the annual District II Board meetings.

7 Have the District II newsletter made available to all area leadership in each area four times per year, effective immediately.

8 Have all area and district leadership LTR-trained within six months of taking office. (dependent on LTR availability)

We realize that some of these goals will take a lot of work from all of us, but we believe that these goals are attainable. We challenge each of you to make some goals for your individual areas. Be bold. Goals are dreams and we want to see our dreams come true.
Jerry & Lynn Brownlee
District II Clergy Executive Couple

Arnie & Sue Kaestner
District II Lay Executive Couple
To return to the Chicago ILME home page, please go to http://members.tripod.com/~da2ofus/Chicago.htm