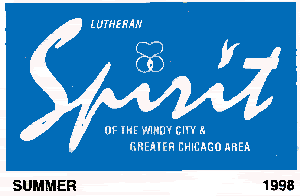 WHERE'S YOUR SPIRIT? ONLINE!


In what is very likely a first for newsletters within the international Marriage Encounter movement, the Lutheran Spirit of the Windy City & Greater Chicago Area is being published on the Internet. The Spring 1998 issue of Spirit, the one immediately preceding this Summer issue, was the first to be accessible online.
The Internet edition of Spirit, which features animated graphics, is maintained by Alan & Ruth Anne Wheeler, Chicago Area Publicity Couple. Thanks to The Wheelers' labor of love, Spirit joins numerous other groups, including International Lutheran Marriage Encounter (www.ilme.org) and Chicago Area LME, in utilizing the Internet to support the Marriage Encounter goal of changing our world.
Alan & Ruth Anne place Spirit online once it has been published for conventional distribution. The Spring issue of Spirit is accessible now through our Chicago Area LME website, maintained by the Wheelers at http://members.tripod.com/~da2ofus/Chicago.htm. The current Summer issue will be accessible in late May.
"The Chicago Area website is more than just a page for listing LME Weekends and community events," according to Ruth Anne. "At the site, you can find our very own Chicago Area LME message board, where we can post prayer requests, community events, or just 'chat' with each other online.
"There is also Spirit Online, where you can find the text of some past issues of Spirit, along with some really great animated graphics. If you haven't stopped by the Chicago Area homepage, stop by, book mark it in your browser, and come back frequently! See you online!"



UPCOMING 1998 WEEKENDS

Chicago
November 6–8

Rockford
October 16–18

Central Illinois
October 9–11


Another cancellation—but there's still hope


Originally slated for January 23–25, then rescheduled for May 1–3, the Chicago Area Discovery Weekend has been scrubbed again. Canceled the first time for lack of registrations, the elusive Weekend has now been aborted because of a staff emergency.
Those of you who have already registered for this special Weekend, take heart! Our Lay Contact Couple, Ralph & Judi Golnick, are working hard to see that a Discovery Weekend comes to our area.
The Weekend is designed to encourage a recommitment to the task of "changing the world." Registration is restricted to 20 couples. If you want to join in, send your request, along with a $45 check (to Lutheran Marriage Encounter) to: Bob & Janet Ichida (please contact the webmasters of this site, Alan and Ruth Anne Wheeler, at da2ofus@couple.com for contact information for the Ichidas)
Couples will be asked to consider giving a donation while on the Weekend. For further info, you can also contact the Golnicks ralphg@ameritech.net.




You're invited to help change our world


You'll notice a new look to your Support Team roster on the Chicago board page, http://members.tripod.com/~da2ofus/ChicagoILME/ChicagoBoard.htm, with a lot of "New Tasks." Why do this?
(1) As a practical move, to lighten the load for some team members whose responsibilities have been expanded through the years.
(2) More importantly, to enable more couples to share the joy of making Lutheran Marriage Encounter a vital means of strengthening family life in the Chicago Area.
You are invited to to help change our world through your loving support of Marriage Encounter. Would you, as a couple, dialogue and pray about helping out in one of the areas listed on that page? You need not commit to leadership of the Loving Task—unless you'd like to.
More than one couple may team up to fulfill a loving task. Perhaps you'd like to serve with another encountered couple you feel close to. Invite them to join you!
Please read through the loving tasks described below to see where you'd like to serve. Then call the couple listed in that area for more information and to learn how you can help. If no name is listed in your area of choice, e-mail Ralph & Judi Golnick at ralphg@ameritech.net.

Use this link to go to the Chicago Board page

IT'S YOUR MOVE
Your loving support can make a difference in some couple's life.



Chicago ILME Community Coordinators Information
http://members.tripod.com/~da2ofus/ChicagoILME/CommunityInfo.html

INTERNATIONAL LME

Toll-free: 800-235-1010
Homepage: www.ilme.org

INTERNET

Chicago Area LME Website and Online Spirit:
http://members.tripod.com/~da2ofus/Chicago.htm



What are you doing July 10–12?

REUNION '98: FAMILY DIALOGUE, TEXAS HOEDOWN


We are so excited about the plans for the District II Family Reunion to be held at Texas Lutheran University (TLU) in beautiful Seguin, Texas, July 10-12. Things are really taking shape for the gathering we're calling "Love, Deep from the Heart."
Housing will be in nice, air-conditioned dorms on campus. We will all stay in the same complex. TLU has just completed an extensive building program with several new buildings where we will be meeting, a new pool complex, and many other renovations.
Ron Burke, author of several well known books on Christian marriage, will be our keynote speaker. He is a young, retired minister who now is goat farming and has a wonderful sense of humor. We are looking forward to his part of the weekend.

Bring kids, banners

We invite you to bring your children. A very special part of our weekend will focus on family dialogue and will include children. We are working to get programs for all ages. And bring your banners! We hope to hang a banner from each area in the main meeting room.
Check-in begins Friday, July 10 at 4:00 p.m. The first session will start at 7:30. We are planning a Texas Barbecue and hoedown on Saturday night that y'all are not going to want to miss. So bring your hats, boots and best gal/guy to have a super weekend!
Seguin is south of Austin and east of San Antonio and just down the road from New Braunfels. Any one of these cities is a wonderful family vacation in itself.
You haven't lived until you've been tubing down the Guadalupe. The Missions and River Walk in San Antonio are an education in Hispanic Culture. The food and entertainment are superb!

Plan to stay awhile

Austin is in the middle of the "Texas Hill Country" a legend in itself. The city sits on Lake Austin and near Lake Travis, two of the loveliest lakes in Texas. So if you can take time before or after the Reunion, why not plan to stay awhile and enjoy more of our Texas Hospitality?
If you are flying, San Antonio is the closest airport. Buses to TLU are available at a reasonable cost. Please indicate on the registration form when you plan to arrive.
Camper space on campus is available without hook-ups. Please let us know on the form if you wish space. There are also public campgrounds on a river near campus but reservations need to be made soon. Call Will and Mary for details.

Please register now!
—Ruth & Dick Osburn, District II Reunion Coordinators
osburnrk@gbtech.net

If you would like more information or brochures, contact Will and Mary Sauermilch by e-mail at: wmsauer@icsi.net.

An online registration form can be printed out at:
http://members.tripod.com/~da2ofus/ChicagoILME/ReunionRegistrationForm.htm

WE NEED YOUR HELP!


If you have a presentation that you think other ME Lovers would enjoy, please contact Ruth and Ralph Reitmeyer at r_w_reitmeyer.parti@ecunet.org

S-H-H-H!
(There's going to be a Silent Auction)

A silent auction of "gifts from the heart" is planned for our District II Family Reunion in Seguin, Texas July 10–12. Please dig around to see what loving things—pictures, banners, foot cream, books, etc.—you might want to donate and let the registration couple know. We would like to suggest a "basket from the heart" from each community or area.
We will have a "Blessing Board" in the registration area for us to share neat books, songs, readings, etc. that have blessed our coupleness. There will be cards on the board for you to share.


GREET & EAT

You experience the joy of a Marriage Encounter Weekend—only to run smack dab into Monday. You really want to share your couple love with others, but a zillion commitments get in the way.
Take Heart! Here's a simple but fulfilling way you can keep the ME Dream alive:
1 Put future Weekend dates (page 1) on your calendar.
2 Show up at the Weekend site on Friday evening between 6:30 and 7:00 and tell the Hosting Couple you're there to greet couples.
3 After all the Weekend couples have arrived, go out to eat with other greeters!




COMING OCTOBER 23–25 AT THE SHACK

In Search of the elusive WHITE ELEPHANT

Why do Marriage Encounter couples leave for the fall—and then fall for the leaves? The answer: Beds of rest, splits to drive for, and white elephants. These are just a few of the sighs, size, and sights in beautiful Jugville, Mich.
For the past five years Chicago Area Community couples have been in search of the elusive "white elephant" that has been reported to roam the Michigan forests.

Plotting their capture

Their travels have included a wagon ride pulled by the Belgian team of Chester & Carter, a caravan to the emporium of Cloise Webster (a rustic elephant burial ground), a walk among the wild flowers at Loda Lake (who knows what creatures lie in its murky depths!), or an easy walk to the infamous Jugville Mall.
At 9:00 each night the travelers ponder the mysteries that have been revealed. Over piled-high-and-smile-wide banana splits, they plot the capture of an even more unique "white elephant" for next year.
Gracious hosts Marv and Janette Deur open up their Bed & Breakfast, called the Shack, for a weekend of food, fun, and fellowship. Always along to help are Roger and Jean Afman, who fell in love with the lodge many years ago.
Our sixth annual "Shack-up" is planned for October 23–25. Check-in begins at 3:00 p.m. After supper and a get-to-know-each-other, a 10/10 sharing and activity planning session follows. There is always a break for banana splits.

Did we mention eating?

Saturday begins with a devotional sharing, followed by a breakfast buffet. Activities planned for the day never interfere with the noon lunch. There is plenty of time to spend together as a couple, walk in the woods, eat, scratch the bellies of the local inhabitants, eat, take a boat ride, eat, make banners, eat, paint pumpkins, eat, or tour local attractions. Did we mention eating?
An afternoon horse-drawn wagon ride ends just before supper. Saturday night's highlight is a sharing by one of the couples, reminding us of why we celebrate marriage and our coupleness. After all couples have been given an opportunity to share, the elusive white elephants come out of hiding.
Elephants have appeared in many guises—tuberous roots, bull's horns, whatchamacallits, nicked knick-knacks, and attic treasures that defy description.

Just call Roger & Jean

On Sunday morning, after a breakfast buffet, we attend one of the many local churches. We meet one more time for a luxurious lunch buffet before good-bye hugs and promises to return next year.
Do you have reservations about the sixth annual "Shack-up?" The weekend, including all the food you can enjoy, costs from $200 to $325, depending on room selection. Garden view rooms and lakeside rooms with or without hot tubs can be reserved.
Just call Roger & Jean Afman: 847-223-8007.




Get in the SPIRIT

Lutheran Spirit of the Windy City & Greater Chicago Area is distributed quarterly, as resources permit. Here's how you can keep the Spirit flowing:
Items for publication may be sent to: Don & Rita Crawford, the Newsletter Layout Couple
(e-mail: Crawfs2@aol.com) (They reserve the right to edit and condense.)

Fall Spirit Deadline: AUGUST 1






Love Letter from Our Lay Contact Couple


Dear Lovers,
Lutheran Marriage Encounter has had a very positive impact on our marriage. Judi and I rediscovered that special love we had when we fell in love with each other the first time. Through dialogue we have managed to keep that special feeling alive.
One of the neat things about dialogue it that, if you let it slip, you can always start again. And when you do, there is a whole New World to discover. Here are two dialogue questions for you—to get you off and running:

How has our relationship improved since our Weekend? Describe fully in loving detail.

I look forward to the time of the day when you and I can share our feelings. How does telling you this make me feel? Describe fully in loving detail.

When we went on our Weekend we both worked very hard to learn the tool of dialogue, as I'm sure you did. You were floating high as you fell in love with your lover again. Do you remember that time?
We recognize that there are a lot of things pulling at you and your relationship; they pull at our relationship too. But through dialogue we can maintain God's plan for us.
Judi and I have been working in this ministry since 1982. At that time both of our children—David, then 13, and Karen, 6—were living at home. It wasn't long before the children would ask us if we were going to go to community. Our marriage relationship was very important to our childrent as well as to us.
Community helped reinforce our commitment to dialogue. I'm sure that your love for each other is visible to your children, as well. As I watch my son and his wife interact, I can see that he displays many of the values in their relationship that I demonstrated to Judi when our children were growing up.
Marriage Encounter not only has a positive effect on our children; it can also have a positive effect on the world as we "pass it on."
If it has been more than 18 months since you've been on a Marriage Encounter Weekend, we strongly urge you to make reservations to go on the next available Weekend—for the sake of your relationship. You deserve it!

We Love you,

Ralph & Judi Golnick



Return to the first page of the Chicago Area LME Website and Online Spirit:
http://members.tripod.com/~da2ofus/Chicago.htm