FRIENDS WITHOUT FACES

We sit and we type, and we stare at our screens
We all have to wonder, what this possibly means.

With our mouse we roam, through the rooms in a maze
Looking for something or someone, as we sit in a daze.

We chat with each other, we type all our woes
Small groups we do form, and gang up on our foes.

We wait for somebody, to type out our name
We want recognition, but it is always the same.

We give kisses and hugs, and sometimes flirt
In IMs we chat deeply, and reveal why we hurt.

We do form friendships - but - why we don't know
But some of these friendships, will flourish and grow.

Why is it on screen, we can be so bold
Telling our secrets, that have never been told.

Why is it we share, the thoughts in our mind
With those we can't see, as though we were blind.

The answer is simple, it is as clear as a bell.
We all have our problems, and need someone to tell.

We can't tell real people, but tell someone we must
So we turn to the 'puter, and to those we can trust.

Even though it is crazy, the truth still remains
They are Friends Without Faces, and odd little names.

For my sisters in Ladies of the Heart, this is my gift for you: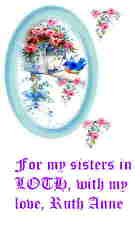 I would be honored if you placed my gift on your LOTH site.
(Please, sisters only!)
To see the Easter page created with the background set created especially for my use by my Spring 1998 LOTH Dream Maker, Sue Burch (a/k/a Susie Q), click here
To see the page using Mrs. Bunny's Dream Catcher 98 spring gifts for LOTH and the special background set she created, click here
This area of the website is currently under construction. Please come back later to see the new set-up!
To send e-mail to Ruth Anne, please click here
To return to Alan & Ruth Anne's Home Page, click here
To return to the index listing of Alan & Ruth Anne's site, click here